South Charlotte Bathroom Remodeling Services
Hopedale Builders is Your Premier Luxury Bathroom Remodeler in South Charlotte, North Carolina
Whether it's your half bathroom used by guests, the full bathroom for the kids, or your primary bathroom retreat, your home's bathrooms should be both highly functional and beautifully designed. Highly stylish yet durable materials are key in these hard-working rooms. Your Charlotte bathroom remodel will make these important rooms to feel refreshed and ready to take on your family's daily routines with ease.
Update your half bathroom with fun trends, choose easy-to-clean and durable materials for your children's full bathroom, and completely update your primary bathroom layout for ultimate functionality and features that help melt the day away.
What are some of the options for your Dilworth, Myers Park, Elizabeth, or Sharon Woods bathroom remodel?
Gutting the existing space
New custom cabinetry and countertops
New plumbing fixtures, lighting, and flooring
New walk-in shower, tiled to the ceiling with options of curbless entry or a steam shower
Multi-head shower system
Large, free-standing soaking tub
Special amenities like in-floor radiant heating and smart features
When it comes to home improvement in the Charlotte area, Hopedale Builders can help you refine your vision and develop a remodeling plan that fits your budget and priorities. Hopedale Builders prioritizes your vision, your budget, and will help you create the efficient, rejuvenating, and beautiful bathroom you and your family deserves.
Frequently Asked Questions About Bathroom Remodeling in South Charlotte, North Carolina
How much does it cost to remodel a bathroom in Charlotte NC?
Your Charlotte bathroom remodel cost will depend on the scope of work, the size of the bathroom, and the grade of finishes you choose for your design. This is to say that the cost of a half bathroom remodel and a primary bathroom remodel will differ quite a lot. The range can span from $25,000 to over $120,000 because of these factors. To better understand what your unique bathroom remodel will cost, contact us and we'd be happy to discuss your design goals and what you could expect for your bathroom remodel in Charlotte, NC.
What comes first when remodeling a bathroom?
First, you'll take inventory of what you'd like to change in your space. Are the finishes outdated? Is the layout frustrating, with cramped space here and dead space there? Do you wish your bathroom had more natural light? Next, what are your must-haves and wish list items? By knowing what you don't like about your current space, we can help guide your remodel to remedy those challenges and work towards the design you envision. Once you know your design goals, contact remodelers for consultations to find the best fit for your project. Read reviews, view their online portfolios, and ask your friends who've remodeled their homes to make your shortlist of candidates.
Do bathroom remodels add value?
Your return on investment (ROI) will depend on a few factors. If your design is hyper-personalized, your ROI will be less but an increase in your quality of life could be of greater importance. Essentially, if you aren't planning to sell your home, the ROI of your remodel could be a secondary consideration to how much you'll enjoy your new space. On average, however, a bathroom remodel could have a ROI of up to about 65%.




Are you ready to get started? Contact Hopedale Builders today to start drafting plans for your brand-new bathroom in Charlotte, North Carolina. If you're still unsure about working with us, check out our past projects and imagine yourself in one of these impeccable spaces.
Our Recent Work
We can help you have the home of your dreams. Check out our work to get inspiration for your next project.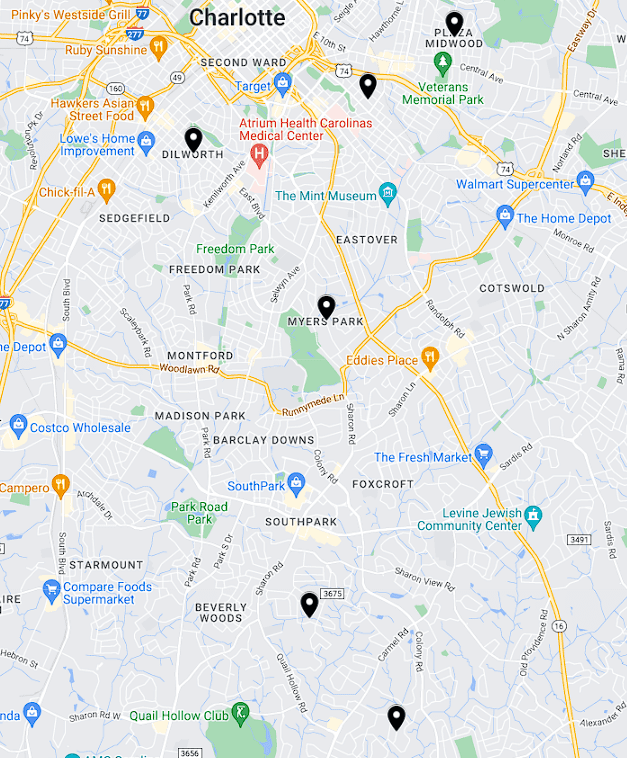 Our Service Areas
Serving the Charlotte, North Carolina area resident in:
Dilworth
Myers Park
Sharon Woods
Elizabeth
Plaza Midwood
Montibello

Barclay Downs

Governors Square

Foxcroft

Carmel

Eastover

NODA

Sharon Woods

Park Crossing

Sardis

Quail Hollow

Olde Providence

Sedgefield

Madison Park

Providence Plantation

Raintree
Not sure if we service in your area? Contact us today!