Hopedale Builders Is Ready to Create Your Dream Custom Outdoor Living Space
Porches, Patios, Pool Houses, Hire a Trusted Contractor in South Charlotte, NC for the Job
Your backyard is as much a part of your home as the interior is. It's time to make it look amazing so you can experience Charlotte's beautiful seasons. Hopedale Builders builds gorgeous and functional outdoor living spaces for our clients in Charlotte, NC, and the surrounding area. Bring dinner outside, throw a party or just enjoy your view a bit more under a covered patio with a little help from our talented contractors. Looking for inspiration and ideas to build your new porch, patio, or pool house? You can explore our latest porch and patio projects in neighborhoods such as Dilworth Myers Park, Sharon Woods, Elizabeth, Plaza Midwood, and Montibello.

Contact Hopedale Builders today to learn how our patio contractors can upgrade your backyard.
Frequently Asked Questions About Remodeling Outdoor Living Spaces
What Does Outdoor Living Mean?
Outdoor living is simply an extension of your home into the beauty of nature. Features can vary widely depending on the wants and needs of the homeowner, as long as it is a space that is comfortable.
Why is Outdoor Living so Popular?
An outdoor living space provides the ideal opportunity to spend more time outside, which is one of the easiest ways to improve health and lower stress levels. Spending time outside has been shown to lower heart rate, blood pressure, and muscle tension. With people spending more time at home lately, it has become pretty much a necessity to have an outdoor space that fits your needs.
How Long Does it Take to Build a Porch?
The timeline for building a porch is typically four to six months, though timelines may vary depending on material availability.
What is the Difference Between a Porch vs. Patio?
In short, a porch is a structure attached to the exterior of a home with a roof that provides cover from the elements. They can be referred to simply as a porch or a covered porch; either term is correct, it's just a matter of personal preference. Porches are open-sided, allowing for beautiful views and plentiful airflow. They also act as a direct entryway into the home.
What are Common Porch Features?
There are many different features you can choose for your outdoor living space. Here are some of the most popular features we have seen:
Wood or gas fireplace
Television, speakers, and extra seating for outdoor entertaining.
Heaters and fans to keep you comfortable in any weather.
A built-in grill, bar, or kitchen area for outdoor cooking.
A wood log storage area.
Screens to keep out unwanted pests.
Sliding, french, or multi-slide doors to connect the porch and main house.
Vaulted or flat ceilings.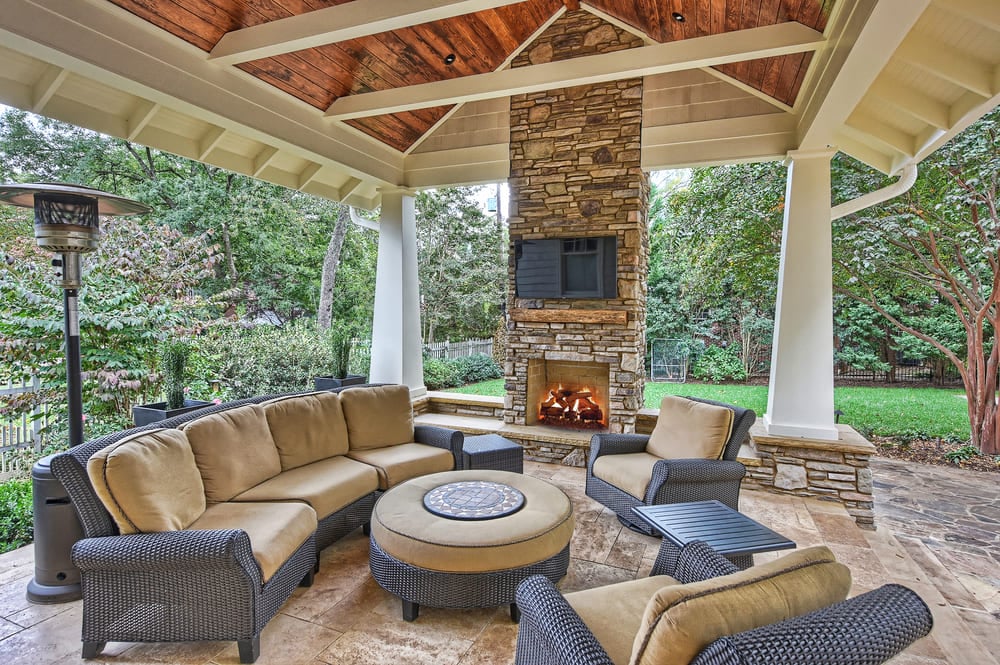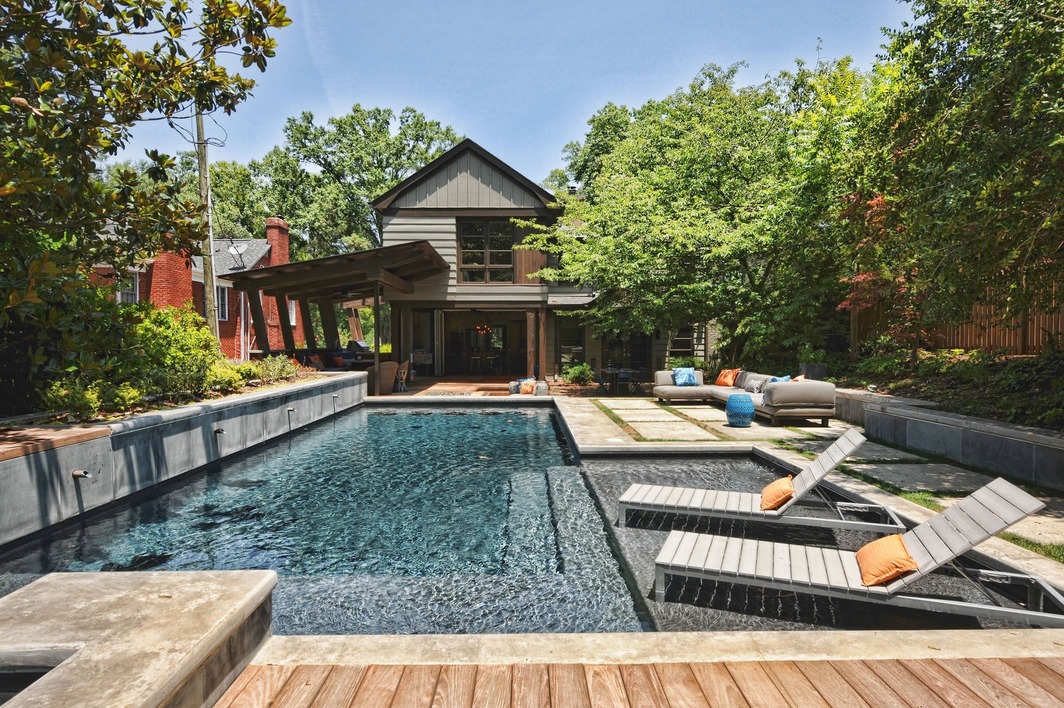 Hopedale Builders Is Ready to Transform Your South Charlotte, NC Patio
Take your Charlotte to remodel to the next level with a back patio to show off your landscape and increase your usable space. Hire Hopedale Builders to build you a:
Gorgeous outdoor fireplace to relax by in the winter
Unique patio to enjoy when the weather is nice
Outdoor kitchen to host parties all year long
Are you ready to get started? Contact Hopedale Builders today to start drafting plans for your brand-new outdoor living space in Charlotte, North Carolina. If you're still unsure about working with us, read what others think of our work of our testimonials page.
Our Service Areas
Serving the South Charlotte, North Carolina area resident in:
Dilworth
Myers Park
Sharon Woods
Elizabeth
Plaza Midwood
Montibello
Barclay Downs
Governors Square
Foxcroft
Carmel
Eastover
NODA
Sharon Woods
Park Crossing
Sardis
Quail Hollow
Olde Providence
Sedgefield
Madison Park
Providence Plantation
Raintree
Not sure if we service in your area? Contact us today!