South Charlotte Kitchen Remodeling Services
Hopedale Builders is Your Premier Luxury Kitchen Remodeler in South Charlotte, North Carolina

The kitchen is often referred to as the heart of the home, and for most families in Charlotte, it's the hardest-working room in the house. It's the place where you cook for your loved ones, gather with friends and family, have heart-to-heart conversations at the kitchen island, and celebrate life's milestones.
At Hopedale Builders, we understand how important the kitchen is to the family home. That's why we've spent years becoming experts in kitchen remodeling: keeping our eye on the latest trends and using cost-effective, high-quality materials.
Creating a custom kitchen remodel with us can include:
Gutting the existing space
Opening walls for improved sightlines and circulation
New custom inset cabinetry, countertops, and backsplash
New plumbing fixtures, lighting, and flooring
Additional spaces, e.g., butler's pantry, bar, mudroom, etc.
Frequently Asked Questions About Kitchen Remodeling in South Charlotte, North Carolina
How much does it cost to remodel a kitchen in NC?
Remodeling a kitchen in Charlotte costs anywhere from $100,000 - $160,000, on average, not including your appliances. The finishes you choose, the age of your home, and your location in Charlotte will determine where in this range your remodel will land. Keep in mind that your cost can exceed this range if the scope of work is more complex, if your kitchen remodel includes an expansion, and if the finishes and features you choose are particularly high-end. Download our comprehensive cost guide to learn more about kitchen remodeling costs in Charlotte, North Carolina. If you need a little guidance on financing your kitchen remodel, we can help to point you in the right direction to choose the best financing option for you.
What costs the most in a kitchen remodel?
As a general rule, the cabinetry is the most expensive part of a kitchen remodel, taking up around 30% of your budget. The cabinets offer one of the most important parts of your kitchen's function and carry a lot of its style as well. However, don't try to cut your budget by skimping on the quality of your cabinets. Work with your designer to balance the budget elsewhere. You'll be glad you did!
What does a kitchen remodel do for the value of your home?
Your kitchen remodel can fetch a return on investment (ROI) of up to 80%, depending on the scope of work and the finishes you choose. If increasing your home's value is in consideration for a future sale, keeping an eye on your potential ROI is a great idea. However, if this is your forever home, the ROI becomes a lot less important than getting the space you need, the finishes you love, and the comfort you deserve in your Charlotte home.
Looking for inspiration and ideas? You can explore our latest remodeling projects in neighborhoods such as Dilworth,
Myers Park, Sharon Woods, Elizabeth, Plaza Midwood, and Montibello. Feel free to contact us to discuss your plans to make your home look better than ever with the help of your go-to kitchen remodeling contractor in Charlotte, North Carolina. For more information on pricing, download our free Kitchen & Bath Remodeling Cost Guide eBook!
Let Hopedale Builders Give Your South Charlotte, NC Kitchen a Well-Deserved Makeover
Are you sick of trying to cook in a cramped kitchen? If you don't love the way your home looks, upgrade it. Hopedale Builders, Inc. provides top-quality kitchen renovations in Charlotte, North Carolina. The Hopedale Builders crew can handle all aspects of your renovation. Trust us to:
Open up walls
Add more windows for natural light

Add square footage for a larger kitchen and/or mudroom

Paint your walls bright, welcoming colors
Install brand-new plumbing fixtures
Replace your outdated countertops
Upgrade the flooring in your kitchen
Install durable, modern cabinets in your kitchen

Are you ready to get started? Contact Hopedale Builders today to start drafting plans for your brand new kitchen in Charlotte, North Carolina. If you're still unsure about working with us, read what others think of our work of our testimonials page.
Our Recent Work
We can help you have the home of your dreams. Check out our work to get inspiration for your next project.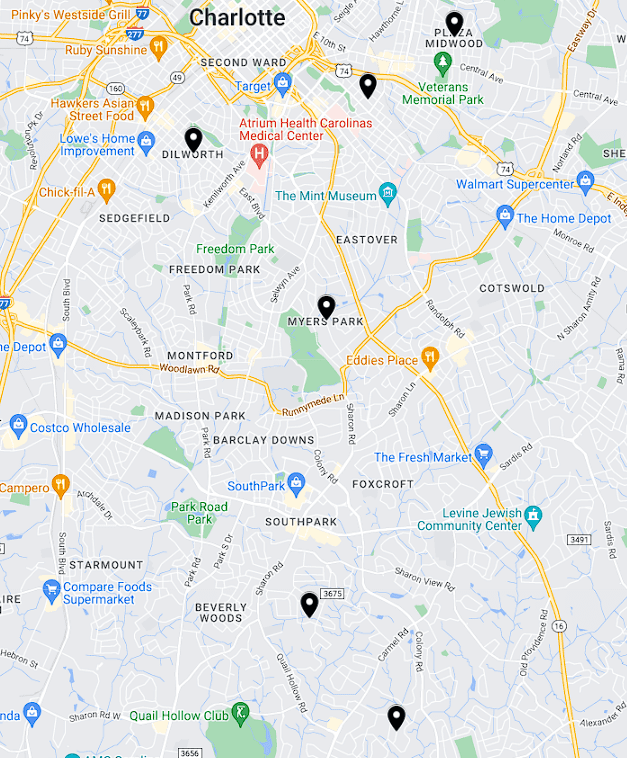 Our Service Areas
Serving the South Charlotte, North Carolina area resident in:
Dilworth
Myers Park
Sharon Woods
Elizabeth
Plaza Midwood
Montibello
Barclay Downs
Governors Square
Foxcroft
Carmel
Eastover
NODA
Sharon Woods
Park Crossing
Sardis
Quail Hollow
Olde Providence
Sedgefield
Madison Park
Providence Plantation
Raintree
Not sure if we service in your area? Contact us today!