Your Questions About South Charlotte Home Remodeling Answered.
What do I need to know before remodeling my house?
Depending on the space you're planning to remodel, temporarily moving out could be a good idea. Your kitchen, for example, is a big part of your everyday life. If living without your kitchen for several weeks seems like it may make your experience frustrating, consider finding alternative living arrangements nearby.

A remodel will take availability to create the design, make product selections, take part in possible problem solving, and staying in touch during construction. We work to make your experience as stress-free as possible and communication is key.
When remodeling, where do you start?
Turn off HGTV, talk to friends, family, contractors, designers, architect (acquire some knowledge) make a priority list. What are your home's challenges? What kind of changes would solve those challenges? Is it the layout, feeling cramped, dated finishes, or damage? Start with the issues your current home has and the design will follow.

Alongside the challenges, you will also want to determine your budget early on. This way, you'll know how much remodeling you can accomplish without going over budget.
How do you calculate a remodeling budget?
It's common to calculate a remodel by the price per square foot. A whole home remodel could cost around $300 to $500 per square foot. Of course, remodeling and expanding a kitchen is going to cost more per square foot than adding a bedroom because of how much more complex a kitchen remodel will be. These are averages, however, and your remodel could vary outside of this range depending on the finishes you choose, the scope of the project, and even your historic or HOA requirements. You will also want to set aside money for a contingency budget.
To get the best estimate for your project, it's best to contact us and we can walk you through what your cost could be based on your design goals.
How long should a remodel take?
The short answer? It depends. Unfortunately, we won't know a timeframe until we can assess your home and learn about your remodeling goals. It's not uncommon for it to take 4 - 8 months. Cosmetic updates will have a shorter timeline than a gut job and removing walls or creating an addition. Contact us to schedule a consultation to know more about how long your unique remodeling job could take.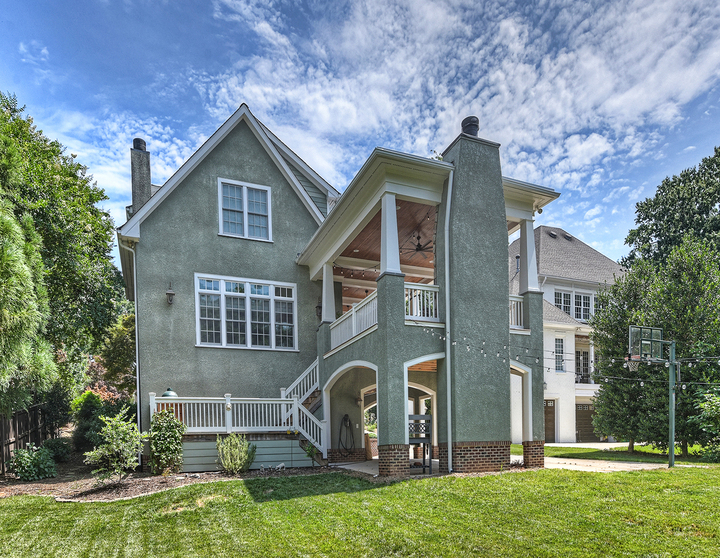 Can you live in a house while it's being renovated?
It's possible to live in your home during a remodel, but it will depend on your circumstances and what room or rooms will be renovated. Remodeling does create noise, there will be a crew that will need access to your house, and certain rooms could create more of an interruption to your everyday life than others. If you have small children or work from home, it could be difficult to stay in the home. During our consultation, we can explain the process so you'll have all the information you'll need to make the best decision for you and your family.
What should you not do when remodeling a house?
Don't wait too long until finding out your budget. Deciding on how many rooms you'd like to remodel and the finishes that will go into those rooms will be determined by your budget. Imaging a new space can be fun, but being realistic will help you not go over budget or be disappointed.
Following trends can be exciting, but incorporating timeless design will serve you in the long run. Choose materials and styles that will last and use trends to accent the space.
Avoid buying furniture before the space is complete or near completion.
Don't compromise on quality where it counts. Your windows, for example, play a big role in your home's energy efficiency and indoor air quality. Products like these are where your budget should be prioritized. Consult your designer and builder on where you can compromise on grade and keep your budget balanced.
Do you need permits to remodel a house in NC?
All projects that require demolition and construction require a permit. Electrical and plumbing will require a separate permit per trade. Some remodels will require submitting plans with your application, while other projects won't. Your builder will be able to advise you on if your design will or will not require plans along with your permit process.
If your home's design is dictated by a Homeowner's Association, this will require another application.
Should I build out or up?
Do you have room to spare on your property? Is accessibility a consideration for your family? Would you prefer for the room addition to have more privacy than the ground floor can offer? Are other homes in your neighborhood two stories? These and other questions will help you decide if building up or bumping out is best for you. A designer will also help you make this decision once they learn your design goals.
What should I look for in a home remodeling business?
First, when looking for the right builder, you'll want to know if the home builder is experienced in your type of project in both scope and style. Next, the remodeling business should have all of the necessary credentials, like insurance and a license. You'll also want to know what their communication style is like as well as if they use a construction management program, which improves communication. Another important concern is their process for determining an estimate and creating a budget. Generally speaking, the more detail the better.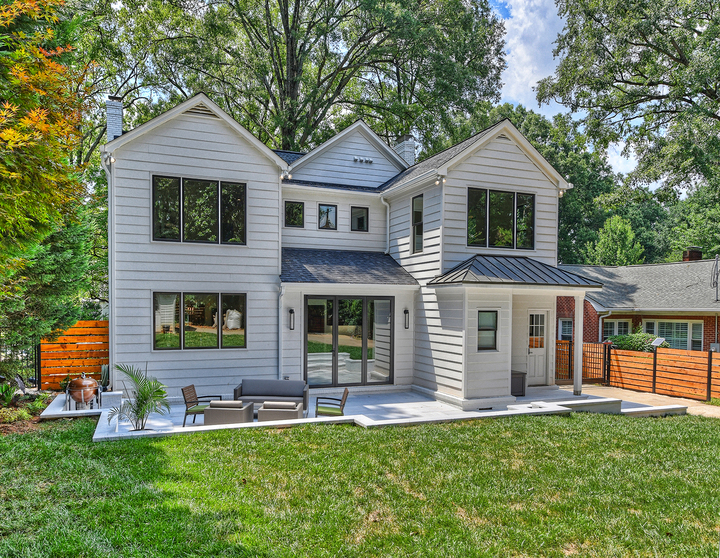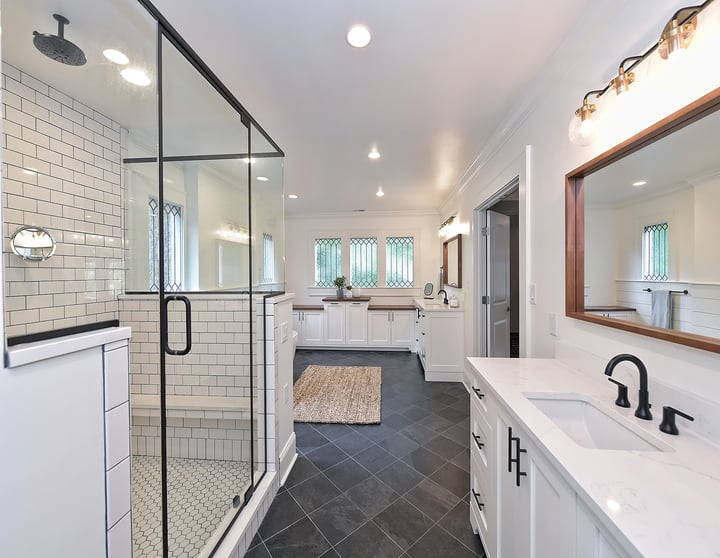 FAQs About Hopedale Builders
How experienced is Hopedale Builders?
Our story begins in 1997 with a genuine passion for solving challenging renovation problems with creativity and bringing our client's vision to life. Since our beginning, we've earned several awards and the trust of our clients, which is why past clients often reach out to us for more projects and refer us to their friends and family. To learn more about our experience with specific renovation projects, take a look at our online portfolio.
What is NARI and how are you associated with them?
NARI is the National Association of the Remodeling Industry. They are a national organization who's goal is to connect people with the best companies for their home remodeling project. We are a NARI member. That mean's we have met their strict criteria as one of the top remodeling companies in the Charlotte, NC area. You can learn more about them here.
Where does Hopedale Builders serve?
Hopedale Builders serves the Charlotte, NC area and specializes in remodeling & building in several neighborhoods such as Dilworth, Myers Park, Sharon Woods, Elizabeth, Plaza Midwood, and Montibello. If you're looking for high-quality building services in the Charlotte area, Hopedale Builders is the company to trust.
Why should I choose to work with Hopedale Builders?
Hopedale Builders provides exceptional customer service experience with personalized attention to every project. We work with only the finest renovation craftsmen in the Charlotte metropolitan region and have obtained valuable industry knowledge through the years. We take pride in our ability to solve complex problems with creativity and expertise.
How do you handle complications?
In a word: communication. Solving issues takes transparency and honesty. We pride ourselves on the trust we've earned with every client by simply doing the right thing. If a complication arises, our first priority is communicating the issue and offering our expertise to solve the issue. Issues during construction are common, but with our experience and superb problem-solving capacity, we're equipped to mitigate issues before they arise or create solutions to work around them.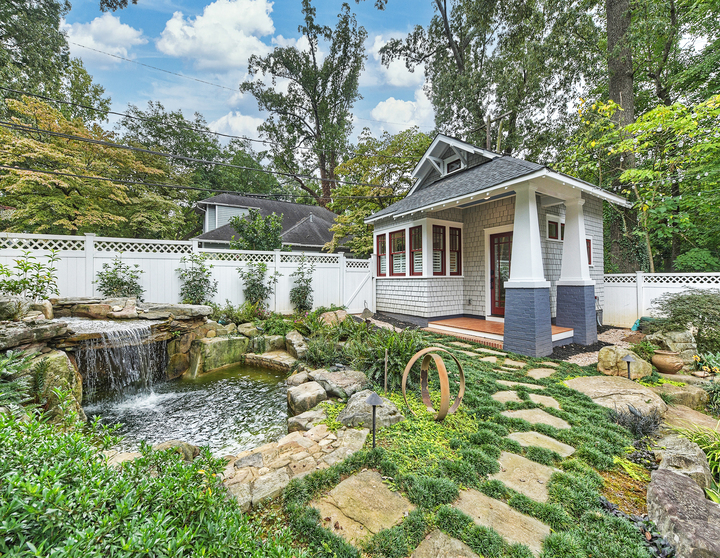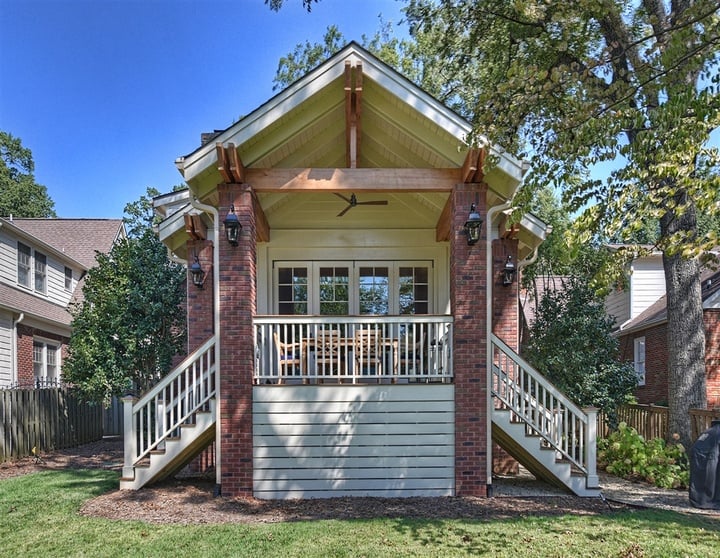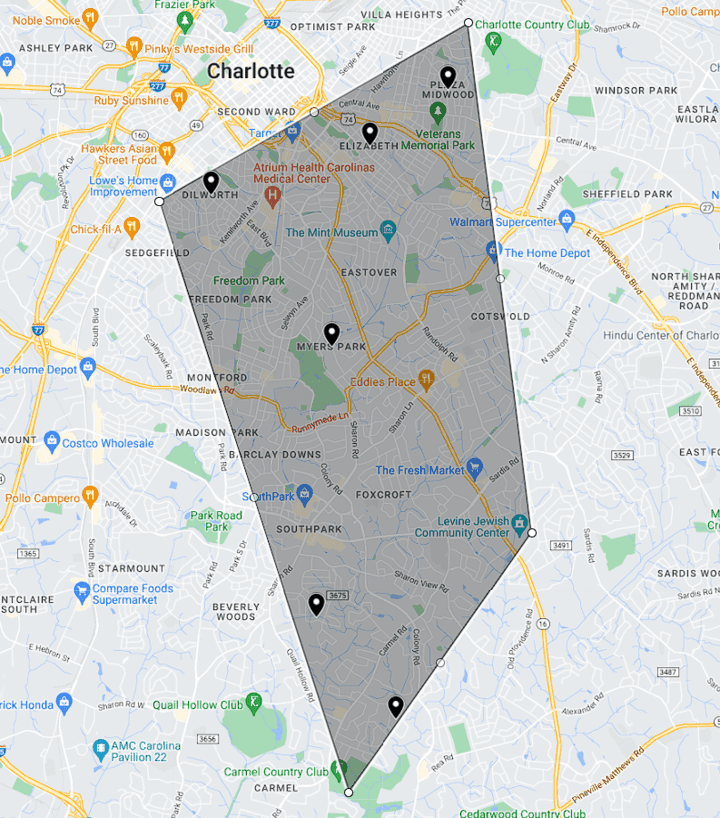 Our Service Areas
Serving the Charlotte, North Carolina area resident in:
Dilworth
Myers Park
Sharon Woods
Elizabeth
Plaza Midwood
Montibello
Not sure if we service in your area? Contact us today!