Towns & Neighborhoods We Serve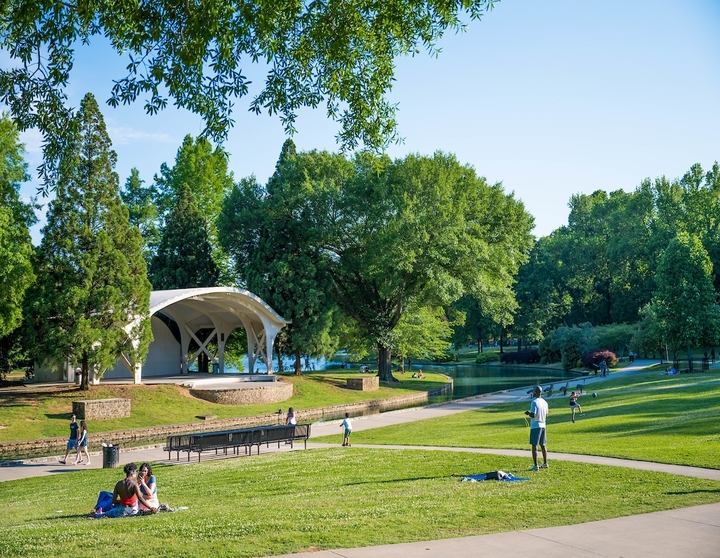 Dilworth
The neighborhood of Dilworth began development in 1891 and is Charlotte's first streetcar suburb. The Queen Anne, colonial revival, Tudor revival, and bungalow homes are accented by mature oak trees. On the National Register of Historic Places, Dilworth is filled with antique charm and an established community of friendly faces. Neighbors and friends gather at wine bars, coffee shops, and neighborhood eateries, of which there are plenty, making Dilworth very walkable.
Dilworth is home to over 2,600 residents who enjoy access to shops, grocers, Discovery Place Nature Museum, Freedom Park, and the Rail Trail, which is lined with murals and art installations. Young professionals and families alike love Dilworth for all it has to offer. It's no wonder it's one of North Carolina's best places to live.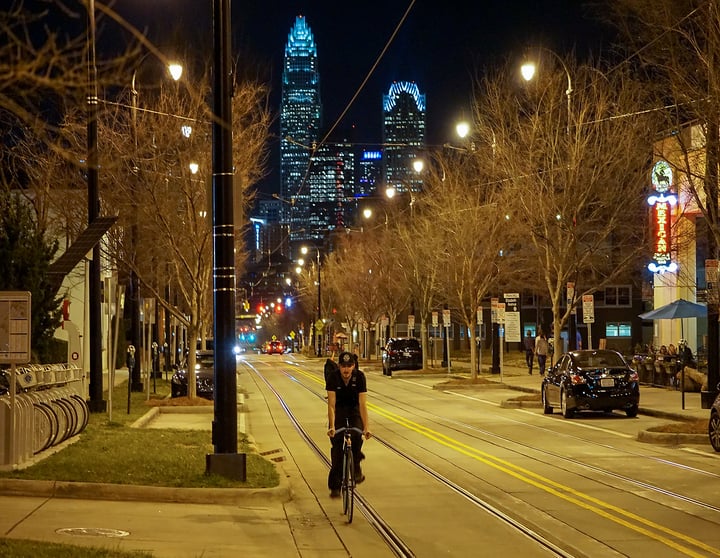 Elizabeth
Elizabeth dates back to 1891 and claims the second spot for oldest streetcar suburbs. Elizabeth is known for its pedestrian-friendly walkability, the hustle and bustle of an urban area, but very relaxed and welcoming energy. Residents and visitors in Elizabeth can also spend a day at the historic Independence Park indulging in a picnic, walking through the rose garden, and exercising on the walking trails. Or, take the streetcar to catch live music and enjoy everything else nearby Uptown offers in a few quick minutes.
The mix of historic charm in a fast-paced environment in Elizabeth draws in new restaurants, breweries, coffee shops, boutiques, and more. It's what makes Elizabeth one of Charlotte's major business and residential neighborhoods. Elizabeth is considered one of the most favored neighborhoods in Charlotte by young professionals and families alike.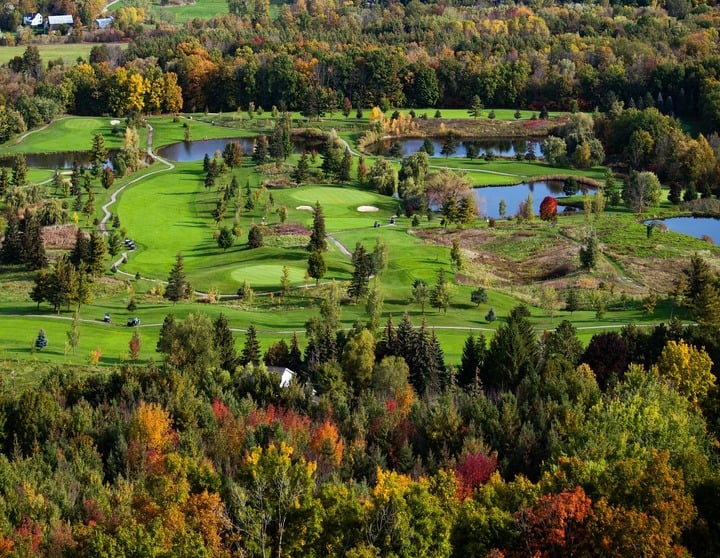 Montibello
Those who live in Montibello have the benefit of an idyllic neighborhood setting with the convenience of any amenity and activity available only a few minutes away. Only 10 minutes to SouthPark Mall, 15 minutes to Uptown, and so close to the prestigious Carmel Country Club, many Montibello golf enthusiasts boast a membership.
Montibello's beauty, proximity, and stately homes with large rolling yards and mature trees, all factor into the strong property values here. It also makes it a great place for families to raise kids in a strong community and short commute times to the area's highly ranked school system.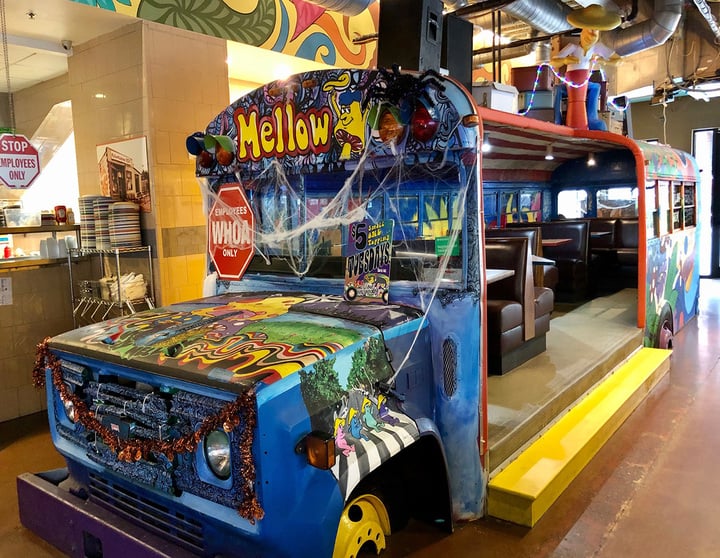 Myers Park
Myers Park dates back to the early 1900s as a beautifully planned suburb full of winding paths, century old oaks, and magnificent gardens. The perfectly landscaped loops follow the natural topography of this lovely and coveted neighborhood. This "garden suburb" is also well-known for its breathtaking collection of mansions and historic architecture, including colonial revival, Tudor revival, bungalow, and red brick Georgian colonial homes.
In Myers Park, you'll find every amenity you could want, including high-end shops, gourmet grocery stores, and restaurants offering an array of international cuisine such as the Mellow Mushroom . The nearly 13,000 residents and visitors alike enjoy the historic architecture and the gorgeous Queens University of Charlotte campus. Highly rated schools, superb shopping, and a plethora of bars, restaurants, and parks draws homeowners from every walk of life.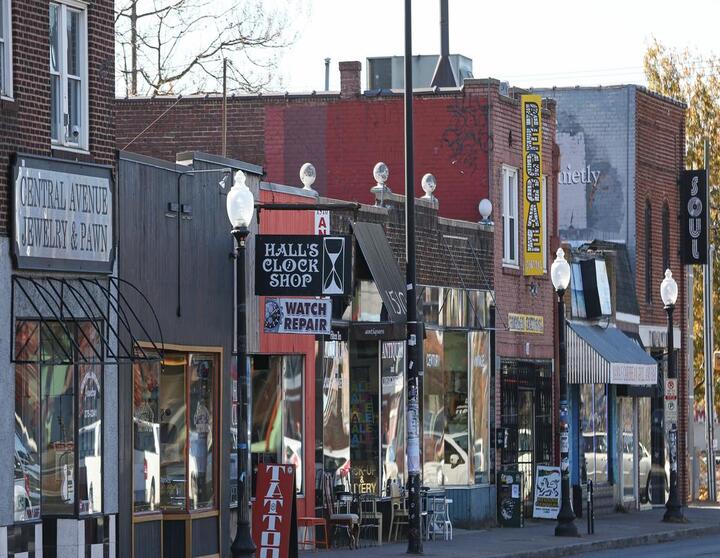 Plaza Midwood
Plaza Midwood's eclectic vibe is probably due to the neighborhood's history: it was originally two neighborhoods divided by the central trolley line. Now, Plaza Midwood is an interesting mixed bag of classically historic architecture and murals, upscale fine dining and dive bars, high-end boutiques and second hand vintage shops. The neighborhood is at once trendy and timeless.
As a resident, you'd find plenty to do in Plaza Midwood, including indulging in its vibrant restaurant scene, visiting galleries, catching live music, or planning your bi-annual festival outing. It's a great place to live for nearly every walk of life, with a bustling nightlife, excellent school system, and an easy place to catch a streetcar for access to nearby Uptown.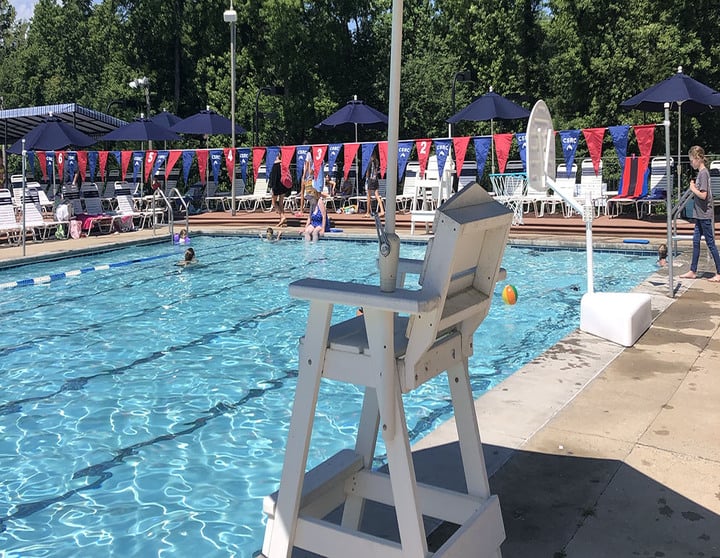 Sharon Woods
Sharon Woods is a peaceful slice of the city of Charlotte and only a few minutes from the bustling SouthPark Mall. The more than 4,600 residents can shop the luxury stores, take in a show by the Charlotte Symphony in the Summertime, or dine at one of the area's many fantastic restaurants, then head back to the quiet enclave that is Sharon Woods.
The lot sizes in Sharon Woods are large enough to feel comfortable but still feel connected to your neighbors. Many of the residents enjoy the amenities of the nearby Mountainbrook Swim and Racquet Club. Matter of fact, Sharon Woods residents are conveniently located with easy access to plenty of things to do around Charlotte while having a quiet respite to begin and end their day.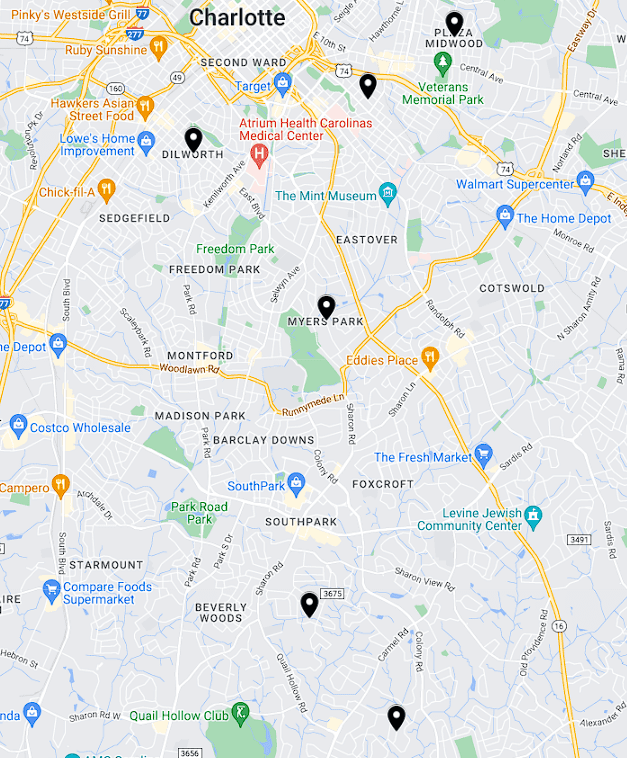 Our Service Areas
Serving the Charlotte, North Carolina area resident in:
Dilworth
Myers Park
Sharon Woods
Elizabeth
Plaza Midwood
Montibello
Not sure if we service in your area? Contact us today!